Our stunning aged Brass sheeting has been designed to make a statement and be the focal point in any living area. The real beauty of the finish lies in the deep mellow aged look of the brass, as though it has been a part of the original interior for many years. All of our sheets are hand crafted to produced varying patinas, giving each sheet an individual bespoke finish. Our gloss lacquered products are ideal when used for decorative and design purposes.
Select your finish and order by the size you need for your project.
CUT TO SIZE
Each of our bespoke finishes can be purchased in sheets cut to your size, perfect for your project.
Pricing includes delivery and turnaround time is 3-4 weeks
Each piece is coated in a gloss finish lacquer that prevents the sheet from further aging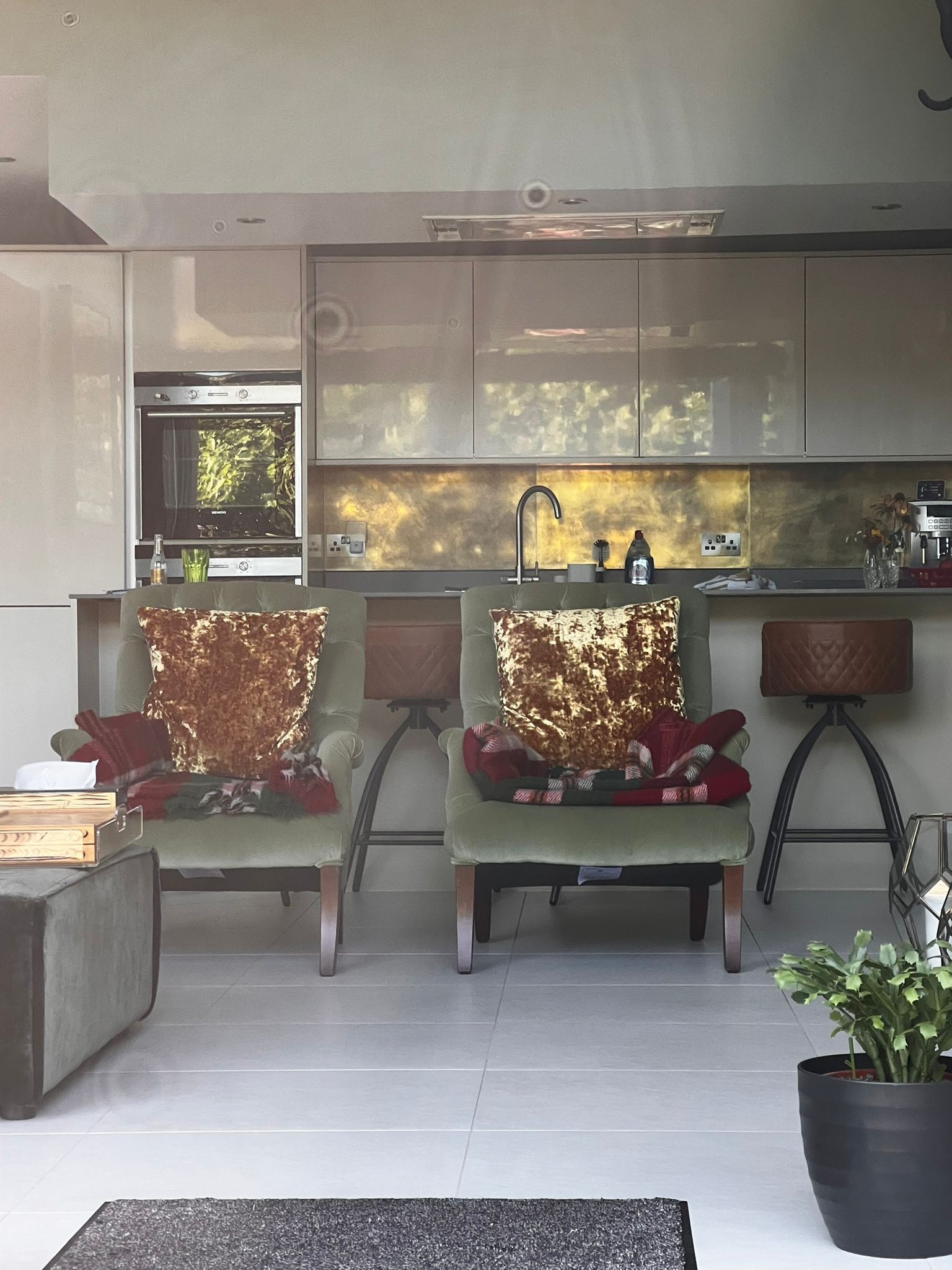 Aged brass sheets can serve as a complete wall covering, feature wall, conversation piece, characterful backsplash or architectural element anywhere in your home. Manufactured from high-quality metal, finished by hand to a lustrous patina and then lacquered to seal in the effect.
Every sheet is different, with a slightly different sheen, character and appeal. Few other materials combine the heritage of brass that reminds us of bygone days with the contemporary appeal of texture and colour. That's why aged brass sheets of this quality are so popular!
These decorative metal sheets can be used in the home, workplace, studio or anywhere you like. They can be used as wall coverings, architectural flourishes or something else entirely, it's completely up to you.
See them as kitchen worktops, balustrades, feature walls, wall panels, bar and counter tops, anywhere the rich characterful sheen of brass would look its best.
Aged brass sheets from Halman Thompson are available in a selection of thicknesses and sizes. We can also cut your aged brass sheet to custom dimensions.
BESPOKE SERVICE
All of our aged products are made to order. This means you can work with our artists through the ageing process to get just the look you are aiming for. Start by choosing a finish.
FINISHES
INSTALLING YOUR AGED BRASS SHEETS
Brass is a soft alloy so needs to be handled with care. Try not to drop or bash the sheet when moving it around otherwise it may become damaged.
Aged brass sheets can be installed using screw fixings or adhesive depending on the situation.
If you need any help with installation or sizing, contact the team here at Halman Thompson. We would be only too happy to help!
AGED BRASS
Brass is an alloy made up of copper and zinc. The proportions of which give brass the lustrous finish and wide variety of depths and colours.
We take standard brass sheets and accelerate the ageing process to provide its key character. Then we finish with a gloss lacquer to deliver the shine and to stop the ageing process.
CARING FOR YOUR AGED BRASS SHEETS
The gloss lacquer should last many years, but can be worn through using harsh chemicals, repeated washing, excessive heat and poor treatment. Sheets can be protected through careful use and the lacquer reapplied if necessary.
Aged brass sheets should require minimal maintenance depending on where they are installed.
If a sheet requires cleaning, use warm soapy water and a microfibre cloth.
Find out more in our aged metal care guide.
Select your finish and order by the size you need for your project.
If you can dream it, we will create it.
In addition to our brass and copper finishes, our team of artisan designers and craftsmen are ready to project into reality. We work with a variety of woods and metals to create bars, tables, balustrades, staircases, worktops, and much more.